Thanks so much for all of the birthday wishes and nice comments that you all posted yesterday!!  I had so much fun reading through your birthday treats too…definitely some YUMMY things listed!  I had random.org select the winning comment numbers from the 142 comments that were posted before noon ET today.  Here they are…
The winner for Blog Candy Package #1, the Celebration Time stamp set and Celebration Thinlits Dies Bundle is comment number 84.
Comment #84 was left by Alicia Bell and Alicia said:
Happy Birthday Amy. Enjoy your special day!
The winner for Blog Candy Package #2, the Lovely Inside & Out stamp set and Lovely Words Thinlits Dies Bundle is comment number 118.
Comment #118 was left by Karen A. and Karen said:
Happy Birthday!!!!
As for me, I'm a pie girl…so cherry or peach so yummy.
The winner for Blog Candy Package #3, the Magical Day stamp set and Magical Mates Framelits Dies Bundle is comment number 28.
Comment #28 was left by Cynthia Link and Cynthia said:
Happy Birthday Amy! I just had a birthday too – and my tradition is to give my friends something to celebrate too! I made a slew of chocolate cupcakes, decorated special bags, and delivered them to friends I don't see very often all around town. It was fun!
I LOVE LOVE LOVE the Magical bundle! Thanks for celebrating your birthday with us! Be blessed this year with many more to come!
The winner for Blog Candy Package #4, the Sunshine & Rainbows stamp set and Rainbow Builder Framelits Dies Bundle is comment number 66.
Comment #66 was left by Steffany and Steffany said:
Happy Birthday!! Aren't birthdays the best, I find that I even though I'm older, I still love celebrating birthdays with cake, balloons and whatever else. I love white cake, especially white almond wedding cake, and I'd choose this for my birthday cake if I had the option. I would love the Sunshine & Rainbows (1st choice) and 2nd choice would be the Celebration Time. Have a great day!
The winner for Blog Candy Package #5, the Truly Tailored stamp set and Tailored Tag Punch Bundle is comment number 7.
Comment #7 was left by K. Boyer and K. Boyer said:
My favorite birthday treat is anything having to do with salted caramel—ice cream and cupcakes especially. Chocolate is also a favorite! My favorite blog candy is #5. Happy birthday!!
Congratulations to everyone!  I'll be in touch with the winners shortly so that I can get your bundles packed up and shipped out to you!  Looking forward to another awesome year with you all!!
---
Stamp With Amy K Double Reward Point Ordering Special Through March 31!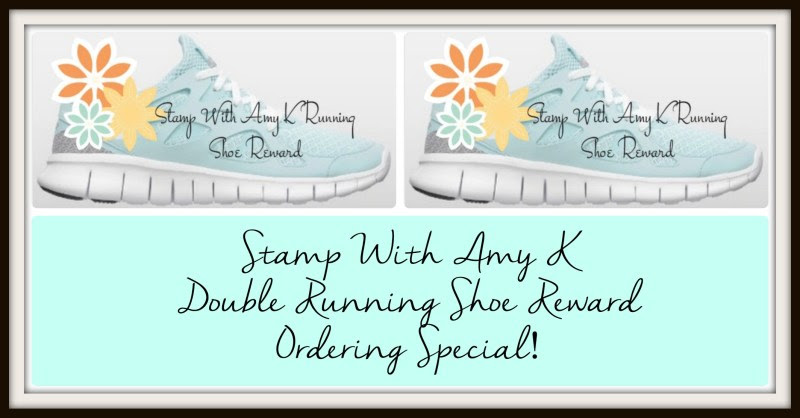 Yesterday was my birthday and I'm celebrating with you by offering a double Running Shoe Reward point ordering special!!  You'll get DOUBLE Running Shoe Reward points for every order of $50 or greater (before shipping and taxes) placed through my online store between 12:00 AM MT today and 11:50 PM MT on Saturday, March 31!!
Don't forget to add the Host Code below if your order is under $150 to get your free thank you gift (don't apply the code to orders over $150 they will automatically get the free thank you gift AND you get host rewards of your own!).  For more information about my Running Shoe Reward points (my buyer reward program), click here.  Let me know if you have any questions.  Thank you for helping me to celebrate another year of gray hair and wrinkles!
---
March 16-31 Host Code:  WEXMBP94
Use this host code when you order and receive a free gift from me!  If your order is over $150, please do not use this code, but you'll still get the free gift.  The free gift is your choice of any item valued up to $10.00 in the 2017-18 Annual Catalog OR 2018 Occasions Catalog!  That includes some of the Host Exclusive stamp sets!  See my Rewards page for full details.
---
If you need any stamping supplies, I'd be very happy to be your Demonstrator.  Just click on the Order Stampin' Up! Online Now button on the right side of the screen to go directly to my online store or drop me an email if you have any questions.  Happy Stamping!