To help you all pick up those last minute retiring items that are on your wish list, I'm offering a double Running Shoe Reward point ordering special through Sunday, May 13!!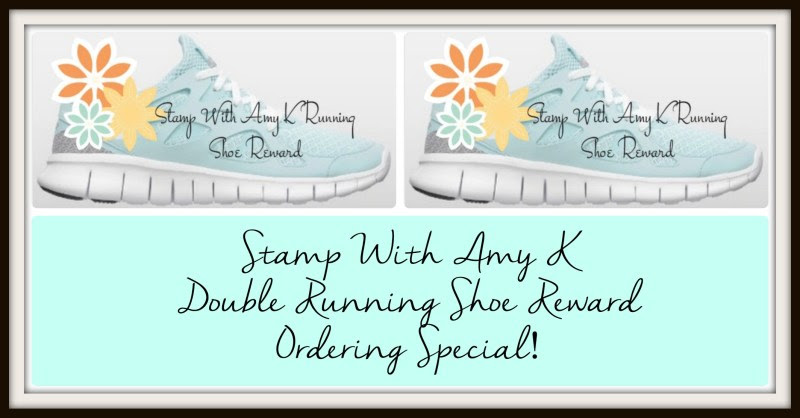 You'll get DOUBLE Running Shoe Reward points for every order of $50 or greater (before shipping and taxes) placed through my online store between now and 11:50 PM MT on Sunday, May 13!!
Don't forget to add the Host Code below if your order is under $150 to get your free thank you gift (don't apply the code to orders over $150 they will automatically get the free thank you gift AND you get host rewards of your own!).  For more information about my Running Shoe Reward points (my buyer reward program), click here.  Let me know if you have any questions.
Stampin' Up! did announce that they MAY add discounts on select retiring products beginning tomorrow, May 8, so be sure to stop by the online store tomorrow to see if they've put anything on sale!  Be sure to shop early as all retiring items (except for stamp sets) are only available while supplies last!
---
May 1-15 Host Code:  QGTZC77S
Use this host code when you order and receive a free gift from me!  If your order is over $150, please do not use this code, but you'll still get the free gift.  The free gift is your choice of any item valued up to $10.00 in the 2017-18 Annual Catalog OR 2018 Occasions Catalog!  That includes some of the Host Exclusive stamp sets!  See my Rewards page for full details.
---
Stamp With Amy K 2018-19 Annual Catalog DSP Shares!
I am offering Designer Series Paper Shares again for the Stampin' Up! 2018-19 Annual Catalog!! If you love the DSP as much as I do and want it all but can't afford to buy full packs of each paper, a share may be a great option for you! You will get a good, working sample from each of the packs for a fraction of the cost of buying full packs of every paper.
I have single and double DSP Shares available!  Anyone is welcome to join in my share (please note, I can only ship to addresses within the US).  If you'd like to join, either complete the form on my 2018-19 Annual Catalog Shares page or email the following information to stampwithamyk@gmailcom:
Your first and last name
The email address that is connected to your Paypal account. I only accept Paypal for payment unless you are a current customer of mine or have participated in a share of mine before.
The deadline to sign up for my share is Wednesday, May 30 at 1:00 PM ET.
---
Share What You Love Suite – Early Release Bundles Available Now!!
Stampin' Up! couldn't let Demonstrators be the only ones to be able to get a few things from the new catalog early!  They've created some product bundles from the Share What You Love product suite that they'll be offering a full month early on May 1 for customers to order!
Click the image below to open up a PDF flyer (3 pages!) with the details.
Here are the details about the promotion:
Bundles may be purchased via customer, workshop, or online order.
Bundles may be included as part of a new demonstrator's Starter Kit (free items will be included).
Bundles are exclusive to the suite early release and will no longer be available after 

May 31, 2018

. Individual items from the Share What You Love suite will be available when the 2018–2019 annual catalog is released on 

June 1, 2018

.
There is no minimum purchase required to participate in this promotion.
There are no purchase limits in place during the customer sales period.
If items in the bundles become unavailable during the sales period, available items will ship, and backordered items will ship separately when available.
Sales Period: 

May 1–31, 2018

Order Deadline: 

May 31, 2018; 11:59 PM (MT)
Click here to head over to my online store to start shopping these beautiful bundles now!
---
If you need any stamping supplies, I'd be very happy to be your Demonstrator.  Just click on the Order Stampin' Up! Online Now button on the right side of the screen to go directly to my online store or drop me an email if you have any questions.  Happy Stamping!