Well…today would have been our first full day in Hawaii for the Stampin' Up! incentive trip that you all helped me to earn last year.  Unfortunately, with this crazy virus, we weren't able to go.  I'm feeling a little sad about that.  🙁  But the good news is that anyone who earned the 2020 trip and who earns the 2021 trip is getting an extended trip to Maui in May, 2021 from Stampin' Up! instead!!  Yay!!  Looking forward to spending a few extra days in paradise in about 10 months! 🙂
Even though I'm still at home, as a thank you to my awesome customers for helping me to earn this trip, I'm offering a double Running Shoe Reward point ordering special through July 10!!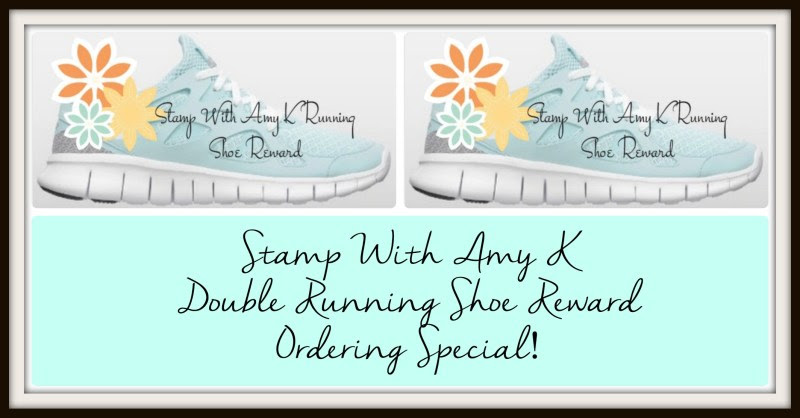 You'll get DOUBLE Running Shoe Reward points for every order of $50 or greater (before shipping and taxes) placed through my online store between now and Friday, July 10!!  As an added bonus, you'll be earning $5 coupon codes from Stampin' Up! that you can redeem in August when the August-December 2020 Mini Catalog (formerly the Holiday Catalog) goes live for customer ordering!  Check out my video below for lots of sneak peeks from the upcoming catalog!
Don't forget to add the Host Code below if your order is under $150 to get your free thank you gift (don't apply the code to orders over $150 they will automatically get the free thank you gift AND you get host rewards of your own!).  For more information about my Running Shoe Reward points (my buyer reward program), click here.  Let me know if you have any questions.
---
July 1-15 Host Code:  EGATSGH7
Use this host code when you order $50 or greater and receive a free gift from me!  If your order is over $150, please do not use this code, but you'll still get the free gift.  The free gift is your choice of any item valued up to $10.00 in the 2020-21 Annual Catalog!  That includes some of the Host Exclusive stamp sets!  See my Rewards page for full details.
---
YouTube Live – 2:00 PM ET!
I'm planning to go live on YouTube at 2:00 PM ET today!  Stop by my YouTube page today at 2:00 PM ET to see my project made with the Best Year stamp set bundle!  Look forward to seeing you then!
---
Speaking of the August-December 2020 Mini Catalog…
I got my Demonstrator preorder from Stampin' Up! yesterday an I hopped on Facebook Live to share it!  If you're interested in seeing lots of new goodies from the upcoming catalog, check out my video here on YouTube:

Or here on Facebook!
---
Stampin' Up!'s Bonus Days Going On Now!!
YAY!!!  The awesome Bonus Days promotion from Stampin' Up! is going on now!  For every $50 that you spend between July 1 and August 3 (before shipping and tax), you will earn a $5 Bonus Days coupon code that can be redeemed between August 4–31!
Head over to my online store to start earning those coupons now!
---
If you need any stamping supplies, I'd be very happy to be your Demonstrator.  Just click on the Order Stampin' Up! Online Now button on the right side of the screen to go directly to my online store or drop me an email if you have any questions.  Happy Stamping!
Visit my online store here.
Shop the Clearance Rack here.
Earn FREE Stampin' Up! Products – Join my Running Shoe Rewards Program – My online customer thank you program!
In addition to my online store, also take PayPal payments for orders – Check my Rewards page for more information.
I offer gift certificates for Stampin' Up! merchandise too!  Click on my Gift Certificates page for more information.
Follow me on: