Are you interested in building your Stampin' Up! supplies a little at a time and still want to be able to also receive host benefits?  An Online Host Club might be the perfect solution for you!  I've got a few openings in one of my clubs starting on September 1.  With the new August-December 2020 Mini Catalog ordering just getting started, this is a great time to join!
Here are the details:
You sign up for a 6 month term and commit to:
A $25.00 minimum order each month
Placing your order by the 20th of each month
Using the Host code for each month provided to you in an email sent out at the beginning of each month
Once 6 members have joined a random draw will determine your host month and you are guaranteed:
a $150.00 Workshop order during your host month
$15.00 minimum of Host Dollars to spend on the exclusive Host Stamp Sets, or any other current Stampin' Up! product during your host month
You earn one Running Shoe Reward point for every $25 that you order on your Host Club Orders.  So your $25.00 order earns one Running Shoe Reward every month, a $50 order earns 2 reward points, a $75 order earns you 3 reward points, etc.  You'll earn at least 6 reward points during your membership, building up your Running Shoes towards FREE Items
FREE monthly tutorial with 4-5 projects
FREE catalogs during your membership term
FREE shipping in your Host Month
A FREE STAMP SET of your choice valued up to $25 at the end of the 6 months, any current set (excluding host sets)!
At the end of the 6 months, you will get first right at signing up for the next 6 month term
Drop me a note through my Contact Me page or send me an email at amy@stampwithamyk.com if you're interested in joining or if you have any questions!
---
August 1-15 Host Code:  
EBSWWS6X
Use this host code when you order $50 or greater and receive a free gift from me!  If your order is over $150, please do not use this code, but you'll still get the free gift.  The free gift is your choice of any item valued up to $10.00 in the 2020-21 Annual Catalog or August-December 2020 Mini Catalog!  That includes some of the Host Exclusive stamp sets!  See my Rewards page for full details.
---
Stamp With Amy K Double Reward Points Ordering Bonus Ends TONIGHT!
Woohooo!!!  The new Stampin' Up! August-December 2020 Mini Catalog ordering is open for ordering and I'm offering a double Running Shoe Reward point ordering special to celebrate!!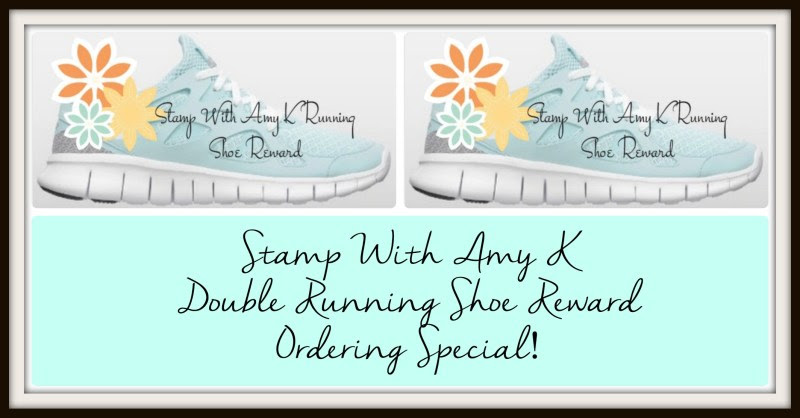 You'll get DOUBLE Running Shoe Reward points for every order of $50 or greater (before shipping and taxes) placed through my online store by the end of the day today, Monday, August 10!!
***Please note: My rewards and gifts are based on the final value of your order after your coupon codes have been applied.  The Stampin' Up! Stampin' Rewards for your orders are based on the after coupon totals too.  Let me know if you have questions about that.
Don't forget to add the Host Code above if your order is under $150 to get your free thank you gift (don't apply the code to orders over $150 they will automatically get the free thank you gift AND you get host rewards of your own!).  For more information about my Running Shoe Reward points (my buyer reward program), click here.  Let me know if you have any questions.
---
Bonus Days Coupon Redemption Going On Now!
Yay!!  It's time to cash in those Bonus Days Coupons that you've earned!
Here are the details:
Redemption Deadline:  August 31 2020, by 11:50 PM (MT)
There is no limit to the number of coupon codes participants can use on an order during redemption.
Bonus Days coupon codes may be redeemed for any product (excluding Starter Kits and Paper Pumpkin monthly subscriptions).

New prepaid Paper Pumpkin codes may be discounted using Bonus Days coupon codes.

Bonus Days coupon codes will reduce the amount of an order.
Bonus Days coupon codes may be redeemed one time only.
Coupon Code Redemption In The New Online Store
The checkout screen looks slightly different than it did in the old online store.  The coupon code and host code placement are right under the checkout button in your shopping cart now.  Simply click the "+" button on the right and then copy and paste your codes individually and "apply" each one of them and you'll be all set!
Let me know if you have any questions.  Happy coupon redeeming!
---
If you need any stamping supplies, I'd be very happy to be your Demonstrator.  Just click on the Order Stampin' Up! Online Now button on the right side of the screen to go directly to my online store or drop me an email if you have any questions.  Happy Stamping!
Visit my online store here.
Shop the Clearance Rack here.
Earn FREE Stampin' Up! Products – Join my Running Shoe Rewards Program – My online customer thank you program!
In addition to my online store, also take PayPal payments for orders – Check my Rewards page for more information.
I offer gift certificates for Stampin' Up! merchandise too!  Click on my Gift Certificates page for more information.
Follow me on: