Stampin' Up! is having a Subscribe-a-thon for new Paper Pumpkin subscribers from May 7-10!  They are offering a limited supply of kits at a special price of $5 for new subscribers when that apply the promo code:  HOMERUN0521
How it Works
Paper Pumpkin has a LIMITED SUPPLY of Batter Up! kits to offer at this special SUBSCRIBE-A-THON rate.
The SUBSCRIBE-A-THON will start on May 7, 2021 at 12:01 AM (MT).
The SUBSCRIBE-A-THON promotion price for new subscribers is only $5.00! (shipping included)
The sale will continue until all allocated kits are sold out, or until the May subscription period ends on 10 May—whichever comes first. If the allocated kits are sold out prior to the subscription period, the sale will end and the subscription price will return to normal.
Beginning at 12:01 AM MT tonight, enter the code HOMERUN0521 before the sale ends to receive this special introductory price!
This promotion price will only apply to new month-to-month subscriptions; prepaid subscriptions are not eligible for the discount.
Click here to subscribe beginning at 12:01 AM MT tonight to get the great deal!
May Paper Pumpkin Kit Details:
Kit name: Batter Up
Kit contains enough supplies to create 9 cards—3 each of 3 designs—and coordinating envelopes. The all-inclusive kit includes printed card bases, die-cut paper pieces, embellishments, adhesive, and more!

Card size: 4-1/4″ x 5-1/2″
Envelope size: 4-1/2″ x 5-3/4″

Coordinating colors: Basic White, Bumblebee, Night of Navy, Pacific Point, Real Red, Smoky Slate, Soft Suede
Comes with the bubble gum—a ballpark favorite! Chew while you craft, slide a piece into a card, or save it for later.
Subscribe for the May kit by May 10 at paperpumpkin.com.
Supplies may be limited toward the end of each subscription period.
Let me know if you have any questions.
---
May 1-11 Host Code:  7VB2VTX6
Use this host code when you order $50 or greater and receive a free gift from me!  If your order is over $150, please do not use this code, but you'll still get the free gift.  The free gift is your choice of any item valued up to $10.00 in the 2021-22 Annual Catalog or January-June 2021 Mini Catalog!  That includes some of the Host Exclusive stamp sets!  See my Rewards page for full details.
***Make sure that you can see my name on the final checkout page listed as your Demonstrator when you order so that you know that you're ordering with me and you'll get my rewards!
---
Stamp With Amy K Double Reward Point Offer: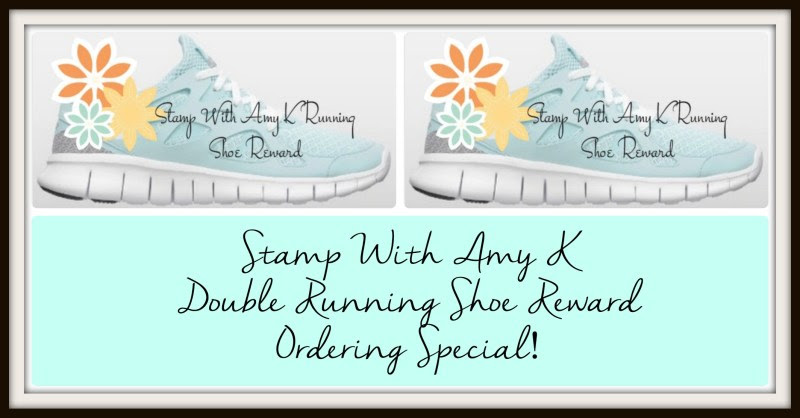 Yay for a new catalog!!  To kick things off, I'm offering DOUBLE Running Shoe Reward points for every order of $50 or greater (before shipping and taxes) placed through my online store between now and Tuesday, May 11!!
Don't forget to add the Host Code above if your order is under $150 to get your free thank you gift (don't apply the code to orders over $150 they will automatically get the free thank you gift AND you get host rewards of your own!).  For more information about my Running Shoe Reward points (my buyer reward program), click here.  Let me know if you have any questions.
---
Stampin' Up! Connect, Craft & Collect $25 Stampin' Rewards Bonus May 4 – June 14!!
From May 4 – June 14, 2021, qualifying Stampin' Up! orders and parties over $250 will receive $25 in BONUS Stampin' Rewards!  Yippee for more free goodies to kick off a new catalog!!
Stampin' Rewards can be spent on any merchandise in either of the current catalogs, including the host exclusive items on pages 170-171 in the new Annual Catalog and page 88 in the January-June Mini Catalog!
PROMOTION DATES:  MAY 4 – JUNE 14, 2021
Workshop orders, customer orders, and online orders all qualify for the extra $25 in Stampin' Rewards if they reach the $250 level.
The order must reach the qualifying amount of $250 in merchandise prior to shipping and tax.
The extra $25 rewards are only valid once per order no matter how high the order total.
Starter Kit orders do not qualify for this promotion.
Stampin' Rewards can not be used on a 50% off item.
Deadline to submit an order and receive the extra $25 in free Stampin' Rewards:  June 14, 2021 at 11:50 PM (MT).
If you have any questions or would like me to set up a host code for you to see if you can collect $250 in orders for yourself, please drop me a note at amy@stampwithamyk.com.  I'm happy to do that for you!
---
Stampin' Up! Join+ Promotion May 4-31!
May is a fabulous time to join Stampin' Up! because you'll get even MORE FREE products in your customizable Starter Kit!  YAY!! From May 4–31, you will get $125 $155 worth of products for only $99 + free business supplies + free shipping + all the fun being a part of Stampin' Up!!
PROMOTION DATES:  MAY 4–31, 2021
New demonstrators who purchase their Starter Kit between May 4 and May 31 will be able to redeem $155 of Starter Kit eligible products for $99.
New demonstrators who submit their Independent Demonstrator Agreement (IDA) before May 4 or after May 31 will not be eligible for this offer.
A new demonstrator can select any eligible Stampin' Up! products up to the stated value.
 The Starter Kit includes business resources like catalogs, brochures, order forms, and postcards at no additional charge.
The Starter Kit also includes a FREE past Paper Pumpkin kit.
The Starter Kit promotion begins May 4.
Deadline to purchase the Starter Kit and receive the extra $30 in free products:  May 31, 2021 at 11:50 PM (MT).
In addition to the amazing added value to the Starter Kit, when you join Stampin' Up! you get to be a part of our amazing community of crafters!  Plus, you get to enjoy sharing simple and fun crafting experiences with others, early access to products, and exclusive access to training events!  Demonstrators also get at least a 20% discount on all of the products that they purchase and there is no requirement to sell to anyone.
If you join Stampin' Up! with me, you'll also get some additional perks:
You'll be a part of my Inkin' Krew team!
Monthly team meetings via video conference where we talk about the latest happenings at Stampin' Up! and share project ideas.  We are located all over the United States, but we get together in person online and have lots of fun chatting!
Quarterly in-person meetings (with those from outside the Mendham, NJ area joining us through video conference) where we get together to do lunch, a little stamping and lots of chatting.
Free access to my online class tutorials.
A private Facebook page where we can chat, ask questions and share ideas.
Team giveaways and prizes!  We do fun giveaways and prizes for sharing projects and for reaching sales and recruiting goals.
Monthly team trainings and meetings for those interested in learning more about the business side of Stampin' Up!.
Whether you'd like to start a business or would simply like the great discount, I am here to support you in any way that I can.
There is no risk and no penalty if you decide that being a Demonstrator isn't right for you.  With this great deal, there is no reason not to join in May!!
If you have any questions about joining or being a Stampin' Up! Demonstrator, please drop me a note at amy@stampwithamyk.com.  If you want to read a bit more about becoming a Demonstrator and the benefits of joining, head over to my Stampin' Up! page here.
---
If you need any stamping supplies, I'd be very happy to be your Demonstrator.  Just click on the Order Stampin' Up! Online Now button on the right side of the screen to go directly to my online store or drop me an email if you have any questions.  Happy Stamping!
Visit my online store here.  Or scan the QR code below to go right to my online store via mobile device:
Shop the Clearance Rack here.
Earn FREE Stampin' Up! Products – Join my Running Shoe Rewards Program – My online customer thank you program!
In addition to my online store, also take PayPal payments for orders – Check my Rewards page for more information.
I offer gift certificates for Stampin' Up! merchandise too!  Click on my Gift Certificates page for more information.
Follow me on: