I'm celebrating the Stampin' Up! 2022-2023 Annual Catalog ordering kickoff by offering a double Running Shoe Reward point ordering special.  But hurry, my double points offer is ending tonight, Tuesday, May 10!!
The Double Reward Point Offer: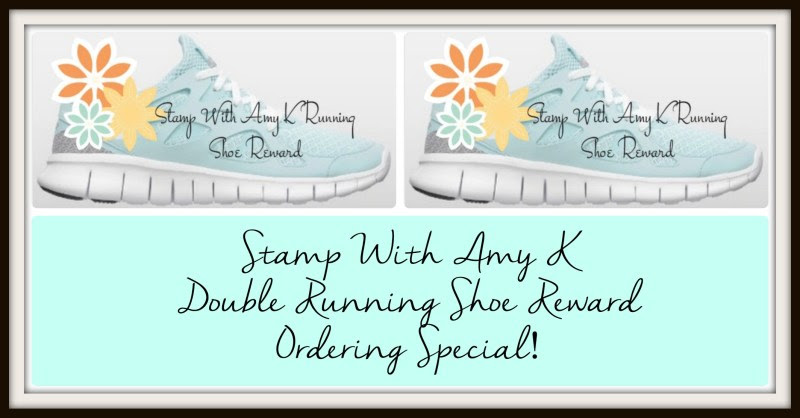 You'll get DOUBLE Running Shoe Reward points for every order of $50 or greater (before shipping and taxes) placed through my online store before the end of the day today, Tuesday, May 10!!

Don't forget to add the Host Code below if your order is under $150 to get your free thank you gift (don't apply the code to orders over $150 they will automatically get the free thank you gift AND you get host rewards of your own!).  For more information about my Running Shoe Reward points (my buyer reward program), click here.  Let me know if you have any questions.
Click here to head over to my online store now to start shopping those new catalog goodies.
---
Have You Seen The New Stampin' Up! Branded Items In The Online Store??
Check out the cute new Stampin' Up! branded merchandise in the online store!  These items are all available to purchase AND count toward your merchandise total for all of the fun extras that I provide with an order!
Here are the new items that are available now:
---
May 1-15 Host Code:  P4QWYQ24
Use this host code when you order $50 or greater and receive a free gift from me!  If your order is over $150, please do not use this code, but you'll still get the free gift.  The free gift is your choice of any item valued up to $10.00 in the 2022-23 Annual Catalog or January-June 2022 Mini Catalog!  That includes some of the Host Exclusive stamp sets!  See my Rewards page for full details.
Orders of $50+ placed through my online store also get my card class tutorials for the month!  You can see the details on my Rewards page.
***Make sure that you can see my name on the final checkout page listed as your Demonstrator when you order so that you know that you're ordering with me and you'll get my rewards!
---
Stampin' Up! In Color Starter Kit Promotion – May 3-31!!
May is a great time to pick up the Stampin' Up! Starter Kit!!  Stampin' Up! is offering $66.50 in FREE 2022-2024 In Color merchandise when you purchase the Starter Kit between May 3-31!
This incredible deal is in addition to the $125 of products that you normally get with your Starter Kit and the free business supplies, free shipping, a free paper Pumpkin Kit and all the fun being a part of Stampin' Up!
The Starter Kit is only $99 + tax!!  And if you join between May 3-31, you'll get:
$125 Stampin' Up! merchandise of your choice
$66.50 in 2022-2024 In Color merchandise (see the list below)
free business supplies and catalogs
free random past Paper Pumpkin Kit
free shipping!!
The free items 2022-2024 In Color included with the Starter Kit are:
2022–2024 In Color Grid Paper (item 160009)
2022–2024 In Color Ink Pad Collection (item 161108)
2022–2024 In Color Cardstock Collection (item 159204)
2022–2024 In Color 6″ x 6″ Designer Series Paper Assortments (item 159253)
Such an awesome deal!!  And such a great time to join as a Demonstrator!
If you are interested in learning more about becoming a Demonstrator, click here to see all of the benefits and the compensation table.  You can also sign up electronically on that same page.  If you have any questions, please drop me a note.  I'd love to tell you more about it!
And if you're ready to join us beginning May 3, click on the "join my team" banner below to head over to my Stampin' Up! website to get started!
---
If you need any stamping supplies, I'd be very happy to be your Demonstrator.  Just click on the Order Stampin' Up! Online Now button on the right side of the screen to go directly to my online store or drop me an email if you have any questions.  Happy Stamping!
Visit my online store here.  Or scan the QR code below to go right to my online store via mobile device:
Shop the Clearance Rack here.
Earn FREE Stampin' Up! Products – Join my Running Shoe Rewards Program – My online customer thank you program!
Interested in purchasing a Starter Kit so that you can save at least 20% on every order that you place?  Check out the details here.
In addition to my online store, also take PayPal payments for orders – Check my Rewards page for more information.
I offer gift certificates for Stampin' Up! merchandise too!  Click on my Gift Certificates page for more information.
Follow me on: