Stampin' Up! has some new Online Exclusive items that are available to order now!!  You won't find these products in any catalog, they'll only be listed in the online store.
The Online Exclusive product releases will continue throughout the year so there will be new products to shop from, in addition to new catalogs!
Click here to head over to the online store to see what's available in the Online Exclusives now!
Or you can see all of the new items individually here (***Please note that the Adhesive-Backed Dragonflies & Birds are currently on backorder until around November 27, causing the Meandering Meadow Suite to be on backorder…but all of the other items in the suite are available and there is no additional discount beyond the bundle pricing for purchasing the full suite):
---
YouTube Live – 2:00 PM ET Today
I'm planning to go live on YouTube at 2:00 PM ET today.  Stop by my YouTube channel today at 2:00 PM ET to see a project that I made with the Garden Meadow stamp set bundle from the new Online Exclusives!  Look forward to seeing you then!
---
Star Trinkets & Merriest Trees Stamp Set Bundle & Dies Are Back In Stock!
Yay!  The awesome Merriest Trees stamp set bundle has been restocked.  You can find it right here: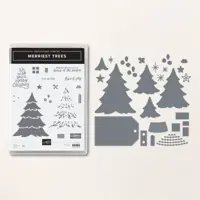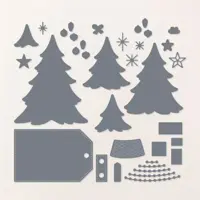 And I know that many of you have been waiting for the Star Trinkets to return!
They're back and you can find them right here:
---
November 1-15 Host Code:  R2SSH34H
Use this host code when you order $50 or greater and receive a free gift from me!  If your order is over $150, please do not use this code, but you'll still get the free gift.  The free gift is your choice of any item valued up to $10.00 in the 2023-2024 Annual Catalog!  For orders placed after September 1, you can pick a $10 item from either the Annual Catalog or the September-December 2023 Mini Catalog!  That includes some of the Host Exclusive stamp sets!  See my Rewards page for full details.
Orders of $50+ placed through my online store also get my card class tutorials for the month!  You can see the details on my Rewards page.
***Make sure that you can see my name on the final checkout page listed as your Demonstrator when you order so that you know that you're ordering with me and you'll get my rewards!
---
If you need any stamping supplies, I'd be very happy to be your Demonstrator.  Just click on the Order Stampin' Up! Online Now button on the right side of the screen to go directly to my online store or drop me an email if you have any questions.  Happy Stamping!
Visit my online store here.  Or scan the QR code below to go right to my online store via mobile device:
Shop the Clearance Rack here.
Earn FREE Stampin' Up! Products – Join my Running Shoe Rewards Program – My online customer thank you program!
Interested in purchasing a Starter Kit so that you can save at least 20% on every order that you place?  Check out the details here.
In addition to my online store, also take PayPal payments for orders – Check my Rewards page for more information.
I offer gift certificates for Stampin' Up! merchandise too!  Click on my Gift Certificates page for more information.
Follow me on: