YAY!!!  The awesome Bonus Days promotion from Stampin' Up! is back!!  For every $50 that you spend between now and July 31 (before shipping and tax), you will earn a $5 Bonus Days coupon code that can be used August 1–31!
Earning Period Details – July 1-31:
Earning Period Deadline:  July 31, 2019, by 11:50 PM (MT)
An email address is required to participate; Bonus Days coupon codes can be delivered only via email.
If a participant earns multiple codes from a single order, they will receive one email with multiple codes. If they earn multiple codes from multiple orders, they will receive separate emails for each code earned.
All order types qualify for this promotion. Fax and email orders still require an email address.
Orders that are started before the promotion begins will not go toward earning coupon codes.
There is no limit to the number of coupon codes participants can earn per order or throughout the duration of the Bonus Days earning period.
Redemption Period Details – August 1-31:
Redemption Period Deadline: August 31, 2019, by 11:50 PM (MT)
There is no limit to the number of coupon codes participants can use on an order during redemption.
Bonus Days coupon codes may be redeemed for any product (excluding Starter Kits and Paper Pumpkin subscriptions).

New prepaid Paper Pumpkin codes may be discounted with Bonus Days coupon codes.

Bonus Days coupon codes may be redeemed one time only.
The earning period for this awesome promotion runs through July 31 and the coupons can be redeemed beginning August 1!!  Let me know if you have any questions.
---
Extra, Extra Joining Promotion – July 1 through August 31!!!
From now until August 31, new demonstrators will receive an additional $30 to put toward bonus products in their Starter Kit (for a total of $155 in merchandise for $99)!!  THEN, they'll receive a $10 coupon code the following month.  Are you interested?  Keep reading to learn more!
Dates:  July 1 – August 31 at 11:50 PM MT
Details:
The bonus at initial sign up allows demonstrators to pick $30 more than usual.  You will pay $99 to sign up and choose $155 worth of Stampin' Up! products in your Starter Kit.
Coupon codes will be sent between the fifth and seventh business day of the following month the new demonstrator signs up.  So for those joining in July, the coupon will arrive in early August and for those joining in August, the coupon will arrive in early September.
The email address listed in a new demonstrator's profile will be used to send the $10 coupon code.
Coupon codes may be redeemed only once.
Coupon codes expire October 31, 2019; after this date, they will no longer be valid.
New demonstrators who submit their Independent Demonstrator Agreement (IDA) before July 1 or after August 31 will not be eligible for this promotion.
Woohoo!!  If you've ever considered purchasing that Starter Kit, now is a great time!  We'd love to have you join and get that discount for yourself or start your own business!!
Drop me a note at amy@stampwithamyk.com if you have any questions.  Or check out more benefits of purchasing the Starter Kit here.
---
Stamp With Amy K Greek Isles Cruise Ordering Bonus!!
As most of you know, I earned the Greek Isles Stampin' Up! cruise this past year.  I'll be packing up and heading to Rome on Wednesday for a few days of touring and we get on the boat on Sunday for our cruise!  Yay!!!  I'm so excited to go and I'll definitely be sharing photos with you while we're there.
As a thank you to my awesome customers, I'm offering a double Running Shoe Reward point ordering special through July 7!!
The Double Reward Point Offer: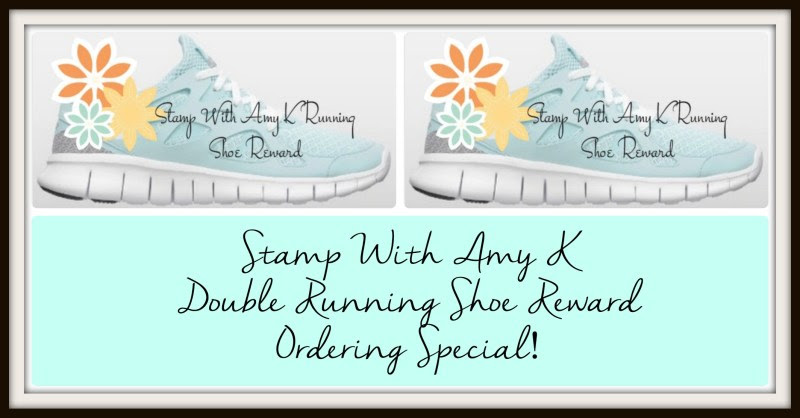 You'll get DOUBLE Running Shoe Reward points for every order of $50 or greater (before shipping and taxes) placed through my online store between now and Sunday, July 7!!
Don't forget to add the Host Code below if your order is under $150 to get your free thank you gift (don't apply the code to orders over $150 they will automatically get the free thank you gift AND you get host rewards of your own!).  For more information about my Running Shoe Reward points (my buyer reward program), click here.  Let me know if you have any questions.
Click here to head over to my online store to order now!  Thank you, thank you, thank you for helping me to earn this amazing trip!
---
July 1-15 Host Code:  7GTSRHTK
Use this host code when you order and receive a free gift from me!  If your order is over $150, please do not use this code, but you'll still get the free gift.  The free gift is your choice of any item valued up to $10.00 in the 2019-20 Annual Catalog!  That includes some of the Host Exclusive stamp sets!  See my Rewards page for full details.
---
If you need any stamping supplies, I'd be very happy to be your Demonstrator.  Just click on the Order Stampin' Up! Online Now button on the right side of the screen to go directly to my online store or drop me an email if you have any questions.  Happy Stamping!