We headed to Rome a few days ahead of the Stampin' Up! Greek Isles cruise and I thought that I'd share some of the photos from the visit so far.
The Spanish Steps
Trevi Fountain

Piazza del Popolo
We may have stopped for a little gelato. 😉

The Pantheon

Amazing architecture and design inside the Pantheon.

Some pretty buildings that we saw strolling around.

Piazza Navona

Castel Sant'Angelo

St. Peter's Basilica

Arch of Constantine
The Colosseum
Inside the Colosseum
Inside the Colosseum
Inside the Colosseum
The Roman Forum

The Roman Forum
The Roman Forum
The original section of The Appian Way

The skyline of Rome
Catacombs of St. Callixtus
Catacombs of St. Callixtus
Some yummy dinner at a little Italian place near our hotel.

And we may have had a little more gelato.  😉

It was hot…so we decided that Gelato in the AC sounded like an excellent way to cool off. 😉  We're enjoying our visit so far!  And we've already run into some Stampin' Up! friends while we were out touring.  🙂
---
July 1-15 Host Code:  7GTSRHTK
Use this host code when you order and receive a free gift from me!  If your order is over $150, please do not use this code, but you'll still get the free gift.  The free gift is your choice of any item valued up to $10.00 in the 2019-20 Annual Catalog!  That includes some of the Host Exclusive stamp sets!  See my Rewards page for full details.
---
Stamp With Amy K Greek Isles Cruise Ordering Bonus!!
As most of you know, I earned the Greek Isles Stampin' Up! cruise this past year.  I'll be packing up and heading to Rome for a few days of touring and we get on the boat on Sunday for our cruise!  Yay!!!  I'm so excited to go and I'll definitely be sharing photos with you while we're there.
As a thank you to my awesome customers, I'm offering a double Running Shoe Reward point ordering special through July 7!!
The Double Reward Point Offer: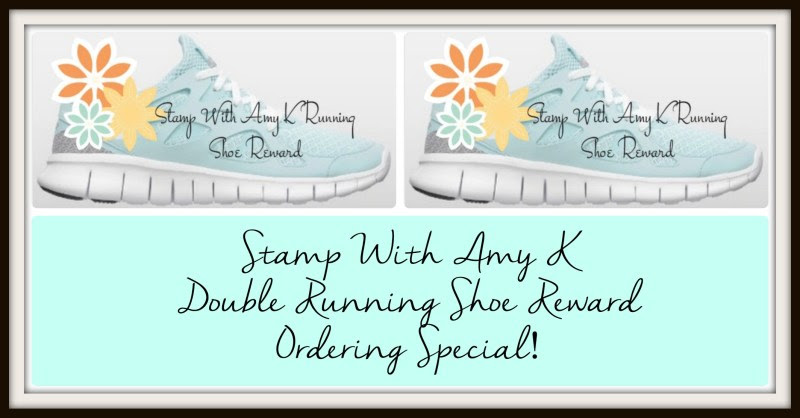 You'll get DOUBLE Running Shoe Reward points for every order of $50 or greater (before shipping and taxes) placed through my online store between now and Sunday, July 7!!
Don't forget to add the Host Code above if your order is under $150 to get your free thank you gift (don't apply the code to orders over $150 they will automatically get the free thank you gift AND you get host rewards of your own!).  For more information about my Running Shoe Reward points (my buyer reward program), click here.  Let me know if you have any questions.
Click here to head over to my online store to order now!  Thank you, thank you, thank you for helping me to earn this amazing trip!
---
Stampin' Up! Bonus Days Going On Now!!
YAY!!!  The awesome Bonus Days promotion from Stampin' Up! is back!!  For every $50 that you spend between now and July 31 (before shipping and tax), you will earn a $5 Bonus Days coupon code that can be used August 1–31!
Stop by my blog post here for the full details.  Let me know if you have any questions.
---
Extra, Extra Joining Promotion – July 1 through August 31!!!
From now until August 31, new demonstrators will receive an additional $30 to put toward bonus products in their Starter Kit (for a total of $155 in merchandise for $99)!!  THEN, they'll receive a $10 coupon code the following month.
Are you interested?  Stop by my blog post here for the full details.  Drop me a note at amy@stampwithamyk.com if you have any questions.  Or check out more benefits of purchasing the Starter Kit here.
---
If you need any stamping supplies, I'd be very happy to be your Demonstrator.  Just click on the Order Stampin' Up! Online Now button on the right side of the screen to go directly to my online store or drop me an email if you have any questions.  Happy Stamping!