Woohooo!!!  The new Stampin' Up! August-December 2020 Mini Catalog ordering is kicking off today around 7:00 AM MT and I'm offering a double Running Shoe Reward point ordering special to celebrate!!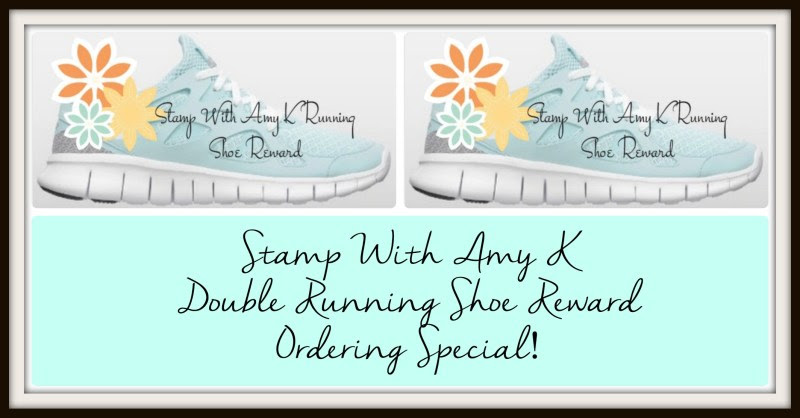 You'll get DOUBLE Running Shoe Reward points for every order of $50 or greater (before shipping and taxes) placed through my online store between now and Monday, August 10!!  
***Please note: My rewards and gifts are based on the final value of your order after your coupon codes have been applied.  The Stampin' Up! Stampin' Rewards for your orders are based on the after coupon totals too.  Let me know if you have questions about that.
Don't forget to add the Host Code below if your order is under $150 to get your free thank you gift (don't apply the code to orders over $150 they will automatically get the free thank you gift AND you get host rewards of your own!).  For more information about my Running Shoe Reward points (my buyer reward program), click here.  Let me know if you have any questions.
Click here to head over to my online store around 7:00 AM MT today! Please be aware that the online store may be up and running earlier, but may not be fully functional until around 7:00 AM MT today.
If you don't have your copy yet, click the image below to open up the PDF of the new August-December 2020 Mini Catalog from Stampin' Up! to start your ordering list now!
Have fun making your shopping list!  Need a printable shopping list (or two or three??), click the image below to open up the full size printable PDF of your shopping list!
---
August 1-15 Host Code:  
EBSWWS6X
Use this host code when you order $50 or greater and receive a free gift from me!  If your order is over $150, please do not use this code, but you'll still get the free gift.  The free gift is your choice of any item valued up to $10.00 in the 2020-21 Annual Catalog!  That includes some of the Host Exclusive stamp sets!  See my Rewards page for full details.
---
Bonus Days Coupon Redemption Starts Today!
Yay!!  Today is the day that you can start cashing in those Bonus Days Coupons that you've earned!
Here are the details:
Redemption Deadline:  August 31 2020, by 11:50 PM (MT)
There is no limit to the number of coupon codes participants can use on an order during redemption.
Bonus Days coupon codes may be redeemed for any product (excluding Starter Kits and Paper Pumpkin monthly subscriptions).

New prepaid Paper Pumpkin codes may be discounted using Bonus Days coupon codes.

Bonus Days coupon codes will reduce the amount of an order.
Bonus Days coupon codes may be redeemed one time only.
Coupon Code Redemption In The New Online Store
The checkout screen looks slightly different than it did in the old online store.  The coupon code and host code placement are right under the checkout button in your shopping cart now.  Simply click the "+" button on the right and then copy and paste your codes individually and "apply" each one of them and you'll be all set!
Let me know if you have any questions.  Happy coupon redeeming!
---
Facebook Live – Late Lunchtime Live –  2:00 PM ET!
I'm planning to go live on Facebook with a project today at 2:00 PM ET!  Stop by my Facebook page today at 2:00 PM ET to see my project made with the Wishes & Wonder stamp set bundle!  Look forward to seeing you then!
***Please note, we are supposed to be having heavy winds and rain in our area today and that means potential power outages.  If the power is out, I'll reschedule to live and post the new time/date on my Facebook page!
---
How About Some New Stampin' Up! Product Videos??
While we wait for the online store to come back online, check out the videos that Stampin' Up has put together showcasing a few of the new catalog items!  You can see them here:
Poinsettia Place Product Suite
Snowflake Splendor Product Suite
Heartwarming Hugs Product Suite
---
If you need any stamping supplies, I'd be very happy to be your Demonstrator.  Just click on the Order Stampin' Up! Online Now button on the right side of the screen to go directly to my online store or drop me an email if you have any questions.  Happy Stamping!
Visit my online store here.
Shop the Clearance Rack here.
Earn FREE Stampin' Up! Products – Join my Running Shoe Rewards Program – My online customer thank you program!
In addition to my online store, also take PayPal payments for orders – Check my Rewards page for more information.
I offer gift certificates for Stampin' Up! merchandise too!  Click on my Gift Certificates page for more information.
Follow me on: