We had our Inkin' Krew team meeting yesterday and I'm sharing the projects that we made as well as some pictures of the team…and the star of the show, FINN!!
Our meetings involve lots of chatting, a bit of eating and a little stamping too!  Here the group is working away on some stamping.
Finn (Mary's famous and very sweet puppy) was busy supervising as well…he made sure that every crumb and scrap of paper was cleaned up speedy quick.  🙂
Finn also supervised the Big Shot cutting…he was a busy guy!
And here are the team members showing off their projects!  Linda, Barbara, Cindy, Sue, Mary (Finn was sound asleep about then), Marilyn, Beth and Lori joined us in Atlanta and Jaimie, Jari, Deepa, Nancy and Karen joined us online.  Had a great time chatting and stamping!  Looking forward to our next meeting already.
We made this card with the Bubble Over photopolymer stamp set and Bottles & Bubbles Framelits Dies, available in a bundle beginning January 3, from the upcoming 2018 Occasions Catalog and the Bubbles and Fizz DSP from the Sale-a-bration Brochure (Sale-a-bration begins on January 3 too!).
And we made this fun card with the Bubble Over stamp set bundle too!  This card was inspired by one that I saw made by Sarah Klass that was posted on Pinterest here.
If you're interested in joining our team, we'd love to have you!  Right now is a great time to join because you can add Holiday Catalog AND Occasions Catalog preorder items to your Starter Kit!  Drop me or any of my team members a note if you have any questions.  We welcome all types of Demonstrators so whether you're only interested in getting the discount for yourself or if you'd like to start up a business, we're happy to help you no matter what your goals are!
---
Next Stamparatus Reservation Window 

December 5-30

!
It's big news when something breaks the mold and changes everything. The Stamparatus will change the way you stamp, and before long, you'll wonder how you crafted without it!
Why do YOU need one? You'll fall in love with stamping all over again when you learn everything you can do with it!
Make multiples with ease
Consistently stamp crisp, clean images
If you want a darker impression, apply more ink and restamp—no need to start over
Make fewer mistakes, saving time and money
Easily create 2-step, 3-step, and 4-step stamped images using reversible plates
Develop new and specialized stamping techniques with adjustable stamping plates and precision placement
Product Details:
Compatible with Stampin' Up!'s red rubber and photopolymer stamp
Foam mat to use with photopolymer stamps
Rulers and gridlines for quick measuring
2 open sides so you can stamp on larger paper
2 reversible plates: a total of 4 surfaces to work with
2 magnets to hold the paper in place
Magnet storage areas
Retail Price–$49.00!!
So How Do You Get One??
With the launch of this tool, Stampin' Up! is trying something different: testing a new reservation system. It acts like a true preorder: you reserve your spot and they guarantee shipment as soon as the product arrives in their warehouse. This system will allow Stampin' Up! to get the product to market as soon as possible while avoiding backorders and efficiently managing inventory.
Changes to the Stamparatus Reservation Process:
As was previously announced, the second reservation window will remain open from December 5–30; however, during this reservation period Stampin' Up! will take as many orders as they receive (yay!) and not close the window until December 30. So whether the total number of reservations is 100 or 100,000, the window will stay open!
Please note the following changes:
The reservation window will open at 2:00 PM MT on Tuesday, December 5 and remain open until December 30.
Beginning 

March 19

, Stampin' Up! will ship Stamparatuses in the order the reservations were received (first in, first out) and continue through the next few months and beyond as product arrives in their warehouse. Because shipment dates are based on manufacturing lead times, not all of the reservations made during the 

December 5–30

 window will ship on 

March 19

 (as was previously announced).
In order to accommodate demand, Stampin' Up! is only allowing one reservation per customer.
Because they are not limiting the maximum number of reservations for the second window, they will not offer a third window. This is the last chance for you and your customers to reserve a Stamparatus before it becomes available in the 2018-2019 annual catalog.
Have more questions? We have answers. Check out the PDFs below.
Here is a video that Stampin' Up! created to show you how to use the new tool!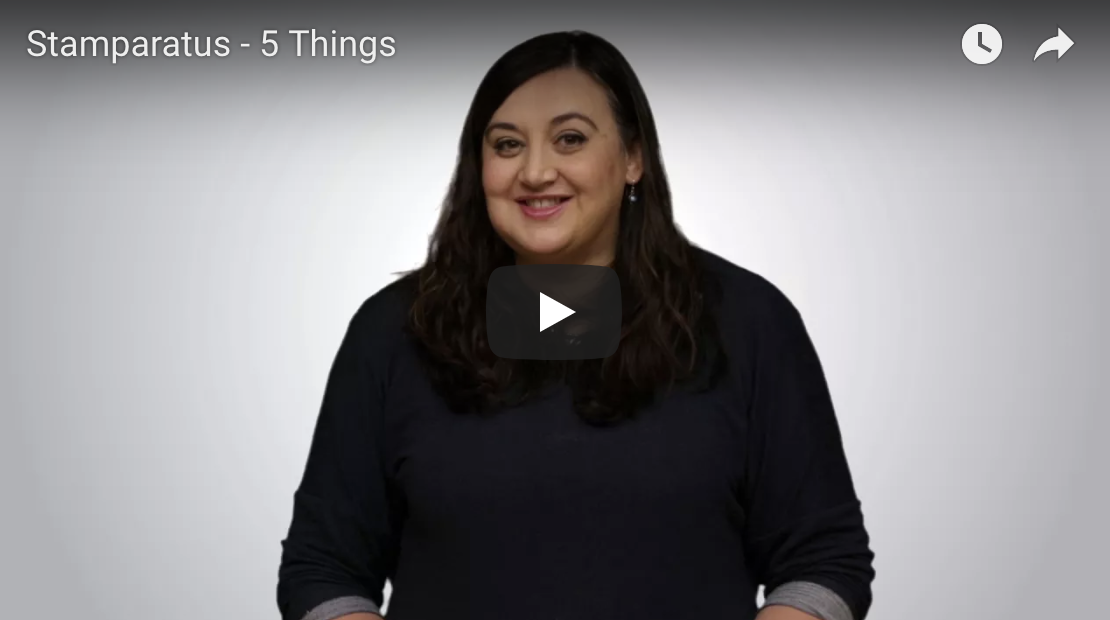 I am beyond thrilled with this new tool and I can't wait to get my hands on mine!  The next reservation period begins tomorrow at 2:00 PM MT and goes through December 30 so you can reserve yours then!
---
Stamparuatus Reservation Questions
A few of you have asked questions about adding a host code to the reservation.  Since the order will not be generated and you will not be charged for the Stamparatus until your Stamparatus is ready to ship, you won't be able to add the host code until then.  This is how the ordering process will work:
After you get your tool reserved, you will get an email from Stampin' Up! confirming your reservation.
You will get an email from Stampin' Up! in when your Stamparatus is ready to ship letting you know that an item has been added to your shopping basket.
At that point, you can log into your Stampin' Up! account in my online store and you will find the Stamparatus in your shopping bag.
You can add other items to your order at that time if you'd like and add a host code to it before submitting the order.  So the checkout process will work just like it always does.  You can add a host code and your payment information at the time of checkout.
Here is a quick tutorial for the reservation process:
Let me know if you have any questions.  Don't forget that the reservation process starts on December 5 at 2:00 PM MT (4:00 PM Eastern Time, 3:00 PM Central Time, 1:00 PM Pacific Time)!
---
December 1-15 Host Code:  YVBQKU6Z
Use this host code when you order and receive a free gift from me!  If your order is over $150, please do not use this code, but you'll still get the free gift.  The free gift is your choice of any item valued up to $10.00 in the 2017-18 Annual Catalog OR 2017 Holiday Catalog!  That includes some of the Host Exclusive stamp sets!  See my Rewards page for full details.
---
If you need any stamping supplies, I'd be very happy to be your Demonstrator.  Just click on the Order Stampin' Up! Online Now button on the right side of the screen to go directly to my online store or drop me an email if you have any questions. Happy Stamping!