I'm celebrating the New Catalog ordering by offering a double Running Shoe Reward point ordering special!!  But hurry, my double points offer runs out at the end of the day today, June 9!!
The Double Reward Point Offer: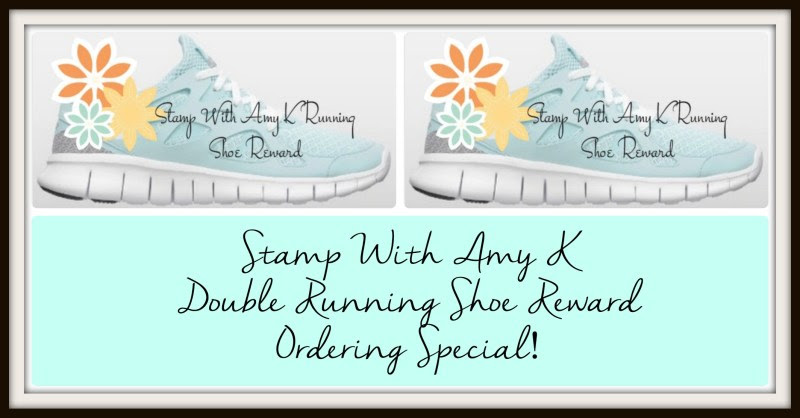 You'll get DOUBLE Running Shoe Reward points for every order of $50 or greater (before shipping and taxes) placed through my online store before the end of the day today, Tuesday, June 9!!
Don't forget to add the Host Code below if your order is under $150 to get your free thank you gift (don't apply the code to orders over $150 they will automatically get the free thank you gift AND you get host rewards of your own!).  For more information about my Running Shoe Reward points (my buyer reward program), click here.  Let me know if you have any questions.
Click here to head over to my online store to shop now!
---
June 1-15 Host Code:  P7ECG2GD
Use this host code when you order $50 or greater and receive a free gift from me!  If your order is over $150, please do not use this code, but you'll still get the free gift.  The free gift is your choice of any item valued up to $10.00 in the 2020-21 Annual Catalog!  That includes some of the Host Exclusive stamp sets!  See my Rewards page for full details.
---
Stampin' Up! Annual Catalog Kickoff Celebration – Extra Host Rewards For YOU!!
The brand new 2020–2021 Stampin' Up! Annual Catalog is live and Stamipn' Up! is having a celebration!
Anyone who places an order of $250+ or holds a party with $250+ in sales during the month of June will receive $25 in extra Stampin' Rewards!!  So that means that you'll earn $50 in Stampin' Rewards with any order or party of $250+ that is submitted between June 3 and June 30! Yay!!!!
Here are the details:
Customer, workshop and online order types all qualify for this promotion.
Starter Kit orders do not qualify for this promotion.  But you CAN use your host cash toward the purchase of your Starter Kit, ask me for details!
Paper Pumpkin prepaid subscriptions count toward a qualifying purchase. Month-to-month subscriptions do not qualify for this promotion.
The qualifying amount must be reached with merchandise prior to shipping and tax.
The $25 additional Stampin' Rewards for this promotion will only be awarded once per order/party.
Order Deadline:  June 30, 2020; 11:50 PM (MT)
Here is a flyer with the details, click on the image to open it to full-size.
Want to host a catalog party??
Drop me a note if you'd like to set up a catalog party!  I can set up a host code for you and you can have your stamping friends place orders with your host code.  If your party reaches $250 in sales, you'll get that extra $25 in host cash when we close out your party!   If you're interested, ask me for details!
---
Want The Best Deal From Stampin' Up!??  Join Now and Pick A Free Bundle With Your Starter Kit!!
Wow!!!  Stampin' Up! is offering an AWESOME promotion if you join during the month of June!!  You get to pick a FREE bundle of your choice with your Starter Kit Purchase!!
Here are the details:
Joining promotion dates:  June 3–30, 2020
New demonstrators who submit their Independent Demonstrator Agreement (IDA) before June 3 or after June 30 will not be eligible for this promotion.
When you purchase your Starter Kit for $99, you get to select $125 worth of products of your choice for your Starter Kit PLUS you get to select ONE stamp and punch bundle (p. 168–169) or ONE stamp and die bundle (p. 173-179) from the new 2020–2021 Annual Catalog—in addition to your regular Starter Kit for FREE.  And your Starter Kit always ships for free…double bonus!!
Once you join, you'll get at least a 20% discount on all products that you purchase plus you get to preorder from the upcoming catalogs a month before they go live for customer ordering!!  There is no requirement to sell and there is no commitment beyond your Starter Kit purchase.  Why not give it a try?  🙂
You can see more details about joining and about our team here on my blog here.  You can also see more information about the benefits of becoming a Stampin' Up! Demonstrator here.
That is such a great deal!!  If you've been considering joining, June will be a great time to jump in!  Drop me an email at amy@stampwithamyk.com
---
If you need any stamping supplies, I'd be very happy to be your Demonstrator.  Just click on the Order Stampin' Up! Online Now button on the right side of the screen to go directly to my online store or drop me an email if you have any questions.  Happy Stamping!
Visit my online store here.
Shop the Clearance Rack here.
Earn FREE Stampin' Up! Products – Join my Running Shoe Rewards Program – My online customer thank you program!
In addition to my online store, also take PayPal payments for orders – Check my Rewards page for more information.
I offer gift certificates for Stampin' Up! merchandise too!  Click on my Gift Certificates page for more information.
Follow me on: