Stamp With Amy K Double Reward Points Ordering Bonus!!
Woohooo!  I'm celebrating the Stampin' Up! 2023-2024 Annual Catalog ordering kickoff by offering a double Running Shoe Reward point ordering special through May 8!!
The Double Reward Point Offer: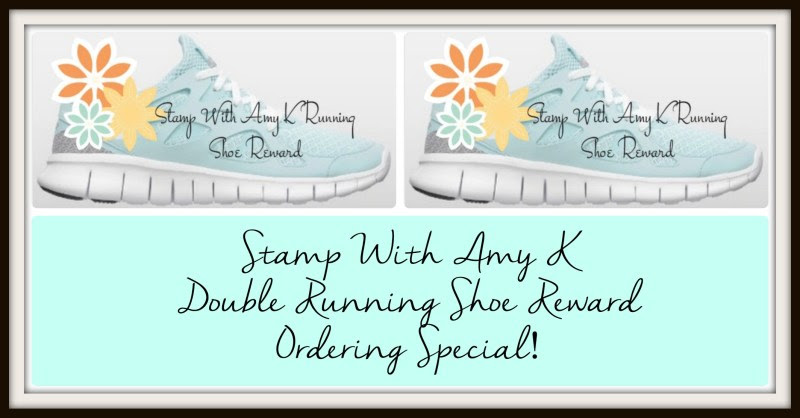 You'll get DOUBLE Running Shoe Reward points for every order of $50 or greater (before shipping and taxes) placed through my online store between now and Monday, May 8!!
Don't forget to add the Host Code below if your order is under $150 to get your free thank you gift (don't apply the code to orders over $150 they will automatically get the free thank you gift AND you get host rewards of your own!).  For more information about my Running Shoe Reward points (my buyer reward program), click here.  Let me know if you have any questions.
Click here to head over to my online store now to start shopping those new catalog goodies.
---
Stampin' Up!'s 2023-2024 Annual Catalog Ordering Open Now!
Woohoo!  The Stampin' Up! 2023-2024 Annual Catalog is now open for ordering!!  If you haven't seen it yet, click the image below to see the online version of the catalog:
All of my customers should have their catalogs by now.  If you aren't a customer of mine but would like to be and would like a copy of the catalog to be mailed to you, fill out my Catalog Request Form and I'll get it mailed out to you ASAP!
Love the catalog as much as I do and want it all??  Purchase the Starter Kit for $99 + tax (and it ships for free!!)!  Once you join, you'll get at least a 20% discount on everything that you order as a Demonstrator and there is no requirement to sell or host events.  You can simply purchase the Starter Kit and get the discount for yourself!  Check out the details below or here!
So many fantastic new products available to order now!  Can't wait to get my order placed this morning too!
Head over to the online store here to start shopping from the new Annual Catalog now!
---
Confetti Birthday Card Kit – Available Now!
Shake up someone's special day with a happy, handcrafted shaker card!  The Confetti Birthday Kit, the newest addition to the Kits Collection by Stampin' Up!, comes with everything you need to quickly create confetti shaker cards—a total of 9 cards in 3 lively designs.  Celebrate in style with bright, bold colors, confetti, and birthday greetings full of joy!
The Confetti Birthday Card Kit includes:
Enough supplies to create 9 cards—3 each of 3 designs
9 coordinating envelopes
Confetti Birthday photopolymer stamp set
One Blueberry Bushel Ink Spot
Printed card bases, card fronts, self-adhesive cellophane shaker bags, die-cut pieces, holographic foil labels, adhesive, embellishments, and a clear block
Finished card size: 5-1/2″ x 4-1/4″ (14 x 10.8 cm)
Coordinating colors: Blueberry Bushel, Coastal Cabana, Crushed Curry, Flirty Flamingo, Lemon Lime Twist, Poppy Parade
Item number:  162390
Kit Price:  $23
Check out the stamp set that comes with the kit!
Swing by the Kits Collection in the Stampin' Up! online store to pick up this cute kit and to see the other kits available to order now!
---
Boho Blue Mini Stampin' Cut & Emboss Machine Available Now While Supplies Last!
Yippee!!  You can now order the Boho Blue Mini Machine (item 161104) for $63!  You can find product details in the online store in the Online Exclusives category here, or you can search by item number or name.
The machine will only be available while supplies last, so get one before they're gone forever!
---
New Branded Merchandise In The Online Store Now!
Stampin' Up! has some new Branded Merchandise that you can pick up in the online store now!  Check out the pretty new grid paper and the awesome decal!
2023–2025 IN COLOR GRID PAPER
Keep your workspace clean and organized with the 2023–2025 In Color Grid Paper! This paper will protect your workspace when you craft while adding a fun pop of color. It has metric and imperial measurements on it to help you with alignment when crafting. Available while supplies last.
Size: 11″ x 17″
Includes imperial & metric measurements
QTY: 25 Sheets per pack (5 sheets of 5 colors)
Product colors: Boho Blue, Copper Clay, Moody Mauve, Pebbled Path, Wild Wheat
Item number:  162439
Price:  $9.00
STAMPIN' UP! LOGO VINYL DECAL
Show off your Stampin' Up! spirit with the new Logo Vinyl Decal! Adhere the decal to a variety of clean surfaces. Put it on your water bottle, your computer, or even your car! Available while supplies last.
2 printed vinyl decals
Sizes: 4-3/8″ x 6″ and 3-3/8″ x 4-1/2″
Product colors: Basic White
Item number:  162441
Price:  $6.00
You can see the individual new Branded Merchandise items here: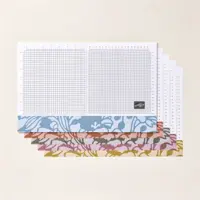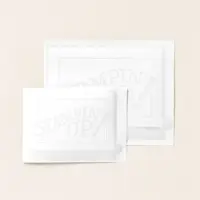 You can see all of the branded merchandise in the online store
right here
.
---
YouTube Live – 2:00 PM ET Today
I'm planning to go live on YouTube at 2:00 PM ET today.  Stop by my YouTube channel today at 2:00 PM ET to see a project that I made with the Beautiful Balloons stamp set bundle!  Look forward to seeing you then!
---
May 1-11 Host Code:  RQY99EEP
Use this host code when you order $50 or greater and receive a free gift from me!  If your order is over $150, please do not use this code, but you'll still get the free gift.  The free gift is your choice of any item valued up to $10.00 in the 2023-2024 Annual Catalog!  That includes some of the Host Exclusive stamp sets!  See my Rewards page for full details.
Orders of $50+ placed through my online store also get my card class tutorials for the month!  You can see the details on my Rewards page.
***Make sure that you can see my name on the final checkout page listed as your Demonstrator when you order so that you know that you're ordering with me and you'll get my rewards!
---
Online Exclusives From Stampin' Up! – Available Now!
Stampin' Up! has some new Online Exclusive items that are available to order now!!  You won't find these products in any catalog, they'll only be listed in the online store.
The Online Exclusive product releases will continue throughout the year so there will be new products to shop from, in addition to new catalogs!
Click here to head over to the online store to see the new Online Exclusives now!
---
If you need any stamping supplies, I'd be very happy to be your Demonstrator.  Just click on the Order Stampin' Up! Online Now button on the right side of the screen to go directly to my online store or drop me an email if you have any questions.  Happy Stamping!
Visit my online store here.  Or scan the QR code below to go right to my online store via mobile device:
Shop the Clearance Rack here.
Earn FREE Stampin' Up! Products – Join my Running Shoe Rewards Program – My online customer thank you program!
Interested in purchasing a Starter Kit so that you can save at least 20% on every order that you place?  Check out the details here.
In addition to my online store, also take PayPal payments for orders – Check my Rewards page for more information.
I offer gift certificates for Stampin' Up! merchandise too!  Click on my Gift Certificates page for more information.
Follow me on: