World Card Making Day is Saturday, October 7 and our team is hosting an event again…and so is Stampin' Up!
Save the date!!  Our team will be hosting a World Card Making Day event again this year!  We'll be setting up a Facebook page where we'll be going live and posting videos showing you card projects all day long!
The event will be Saturday, September 7 and will start around 9 AM ET that day and run through around 9 PM ET that evening.  Replays will be available for all of the presentations if you aren't able to watch that day.
We'll be posting a link to the event page a few days ahead of the event and opening it for all to attend so keep an eye out for that in early October!
We'll see you then!
---
Stampin' Up!'s World Card Making Day Event!
You are invited to craft along with Stampin' Up! for about three hours, and create three unique cards for World Card Making Day! Everyone is invited and welcome and the event and registration are FREE!
Don't miss out on this opportunity to connect with others who love crafting as much as you do and to experience all that Stampin' Up! has to offer.  Mark your calendars now and join us on October 7!
EVENT DETAILS
Who: Anyone!
When: October 7 from 2:00–5:00 p.m. (MT)
Where: Online
Price of Event: Free
Registration Dates: September 6 – October 7, 2023
You can participate in the event without registering. However, registration is encouraged because it's the best way to stay up to date regarding event details. The email address provided will only be used for event communication.
Language of Event: Most of the event will be presented in English with language interpretation voiceover and subtitles in English, French, German, and Dutch.
Help Support : Support will be available on the event platform one hour before the event begins, during the event, and for 30 minutes following the event.
Video on Demand: The World Card Making Day event will be recorded, and you'll be able to access it after the live event. It will be available October 8-31.
Click here to register for the Stampin' Up! World Card Making Day event!
Click this image to open a full-size flyer showing you the stamp set bundles that will be used (including the new Heartfelt Hexagon bundle!!) for the projects on World Card Making Day.
Click the image above for the measurements and card stock cuts for the three projects that will be shared at the event.
You can find the three bundles that will be used for the event right here: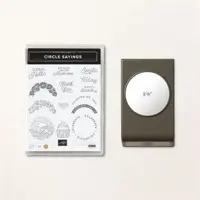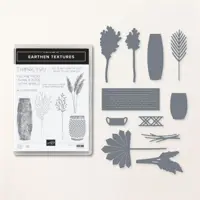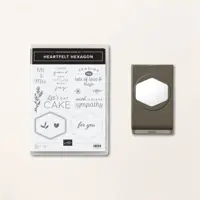 The Earthen Textures bundle should be restocking soon as the stamp set is currently out of stock.
---
Celebrate The Miracle Stamp Set Available Now!!
This just in!  Stampin' Up!'s Celebrate the Miracle stamp set (item 165131) is now available as an online exclusive!  This beautiful Hanukkah stamp set has 19 stamps and is available to order now in the Online Exclusives section of the online store!  You can get yours right here:
---
Celebrating 35 Years Joining Special – 35% Off Starter Kit Price OR 35% More Product In Your Starter Kit – October 3-31!!
Stampin' Up! wants to celebrate their 35th anniversary in style!  From October 3–31, anyone who joins our fun crafting community as a new demonstrator can choose either 35% OFF the cost of their Starter Kit or get 35% MORE product with their Starter Kit!  What a deal!
Promotion Details:
Promotion Period:  October 3–31
Deadline To Join:  October 31, 2023; 11:59 PM (MT)
New demonstrators can choose one of the following options for their Starter Kit:
Option 1: Get 35% OFF the normal cost of a Stampin' Up! Starter Kit. Those who select this option will receive $125 worth of product for only $64.35!
Option 2: Get 35% MORE product with their Starter Kit. Those who select this option will receive $168.75 worth of product by spending $99!
No matter which option you choose for your Starter Kit, both provide you with free business supplies and free shipping on your Starter Kit—not to mention all the fun that comes with being part of Stampin' Up!
FREE OnStage@Home Registration
It gets better! Those who sign up for a Starter Kit during this offer will also be automatically registered for FREE* to our virtual OnStage event on November 11—a $77 value!
Those who sign up for this offer have the opportunity to watch the event independently, gathered together with other demonstrators, or with their Team Leader.
Demonstrators who join during this promotion will be automatically added to the OnStage attendees; they do not need to register separately.
Demonstrators who join during this promotion will also receive an email with all the information about this event.
Yay!  Stampin' Up! events are always SO much fun!!  Bonus that you can join and attend your first even for free!!
Come Join Us!!
If you'd like to join our team, we'd love to have you!  Once you join, you'll get at least a 20% discount on all of your Stampin' Up! purchases and you can preorder from the upcoming catalogs!
We welcome all types of Demonstrators from those only purchasing to get the discount for themselves to those who want to run a business and those anywhere in between!  We're a relaxed group that loves to stamp with no pressure to sell!
There is no commitment and no penalty if you decide that being a Demonstrator isn't right for you.  Why not give it a try?  We have a fun Facebook page where we chat a lot and we do virtual meetings monthly and in-person meetings quarterly.
Drop me a note at amy@stampwithamyk.com or reach out to any of my team members if you have any questions.  You can also see more information about the benefits of becoming a Stampin' Up! Demonstrator here.
---
September 16-30 Host Code: 
GMJSFK2D
Use this host code when you order $50 or greater and receive a free gift from me!  If your order is over $150, please do not use this code, but you'll still get the free gift.  The free gift is your choice of any item valued up to $10.00 in the 2023-2024 Annual Catalog!  For orders placed after September 1, you can pick a $10 item from either the Annual Catalog or the September-December 2023 Mini Catalog!  That includes some of the Host Exclusive stamp sets!  See my Rewards page for full details.
Orders of $50+ placed through my online store also get my card class tutorials for the month!  You can see the details on my Rewards page.
***Make sure that you can see my name on the final checkout page listed as your Demonstrator when you order so that you know that you're ordering with me and you'll get my rewards!
---
YouTube Live – 2:00 PM ET Today
I'm planning to go live on YouTube at 2:00 PM ET today.  Stop by my YouTube channel today at 2:00 PM ET to see a project that I made with the Wishes All Around stamp set bundle!  Look forward to seeing you then!
---
Special Release Designer Series Paper – Available Now!
Surprise, surprise!  Stampin' Up! is offering a special release of five beautiful new Designer Series Paper options!  These papers include fabulous holiday prints, gorgeous seasonal styles, and some spectacular timeless designs.
Sales Period: Starting September 6
The special release paper options will be available in the  Online Exclusives category in the online store.
Products will only be available while supplies last. Once products run out, they will no longer be visible in the online store.
You can open a full size PDF flyer with the details and pricing for the new paper by clicking this image:
And you can see a video showing you more details about the papers right here:

Click here to head over to the online store to see what's available in the Online Exclusives now!
---
If you need any stamping supplies, I'd be very happy to be your Demonstrator.  Just click on the Order Stampin' Up! Online Now button on the right side of the screen to go directly to my online store or drop me an email if you have any questions.  Happy Stamping!
Visit my online store here.  Or scan the QR code below to go right to my online store via mobile device:
Shop the Clearance Rack here.
Earn FREE Stampin' Up! Products – Join my Running Shoe Rewards Program – My online customer thank you program!
Interested in purchasing a Starter Kit so that you can save at least 20% on every order that you place?  Check out the details here.
In addition to my online store, also take PayPal payments for orders – Check my Rewards page for more information.
I offer gift certificates for Stampin' Up! merchandise too!  Click on my Gift Certificates page for more information.
Follow me on: